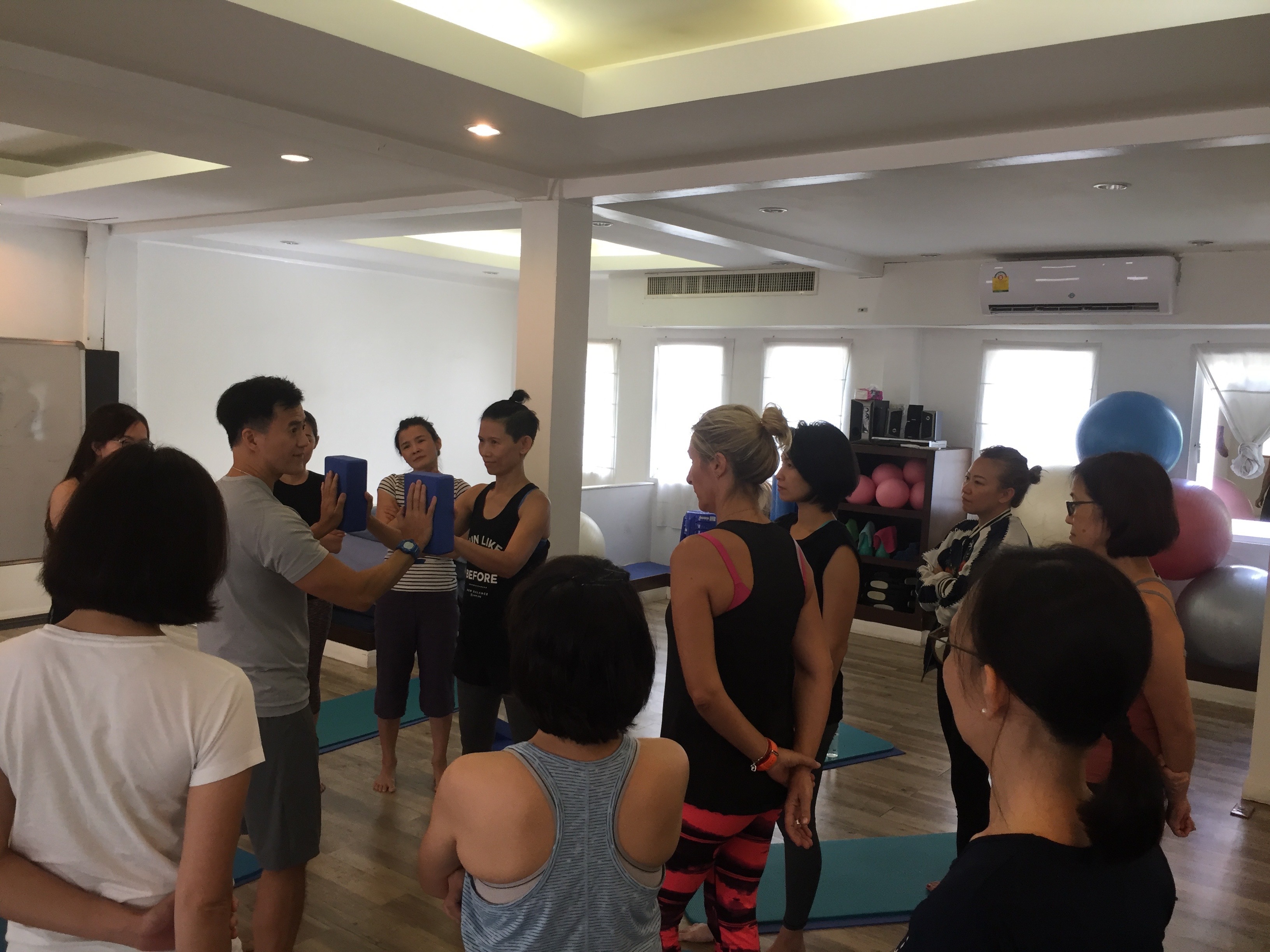 About the course
The 3D Pilates Core program is a revolution in the health and fitness industry. This Workshop is a perfect designated fitness program and a crossover capturing both the western physical Pilates method of exercise and the eastern philosophic Tai Chi spine exercise system. With this innovative combination, the training is full of substance and challenge, and would be arousing great interest and fun for health and fitness professionals.
3DPilatesis a skill-enhancing program focusing on body balancing and core improvement suitable for any fitness Instructors or health professionals. The enhanced skills could beneficially be employed for rehabilitation purposes as well as healing chronic injuries of joints and body structure.
Day 1
Aim / Program Objectives:
1. To understand the Pilates art of controlled movements
2. To learn a new training program to maintain healthy spine with a strong hip core muscle
3. To learn and practice several representative Pilates movements
4. To demonstrate and understand the '3D' meaning
5. To find out the Pilates core training benefits to joints exercise
6. To learn the use of energy power to enhance fitness in daily life and sports performance
7. To maintain a healthy body in good dynamic balance
Day 2
Aim / Program Objectives:
1. To learn more about energy flow and the use of leverage through the joints based on coordination and relaxation
2. To be more interactive in core training for body balance
3. To learn how to empower the hip and spine
4. To explore the particular training in preventing falls for elderly
5. To learn a meditation healing method for the parasympathetic system
6. To simplify the complicated Tai chi Core exercise for easy learning
7. Examination and demonstration 3D Pilates Principles
3D Pilates Core training course (3D Pilates program)
Instructor: Mr. Mike LEUNG BSc (Hon)
fitness & exercise
Mr. Chan Pak Kin B.Sc(Hon)
Radiography
Date: TBI
Time: 10:00-17:00
Place: Lecture room or Sports hall
Duration: 12 hours
Fee: included exam and certificate
Title: Explore the 3D Pilates Core in life
Objective: Introduces and defines holistic exercise. It also focuses on how Pilates applies to our daily life and how it helps us to keep healthy joints. Find out how to use our core muscles to maintain a good body alignment to prevent falling down.
Study Hours
6 hours x 2 consecutive days from 1000-1300, 1400-1700
Participants
Maximum 30 persons
Award
Graduated student with passed will be awarded '3D Pilates Core Instructor' certificate.
Tools: Rubber Band, Yoga Block, Pilates Mat. Fitball
Day One Agenda
1000-1100
Balance basic and dynamic assessment
1100-1200
Functional Vs Structural core
1200-1300
Selective Pilates mat work exercise to improve core power
1400-1500
Experience dynamic core power while walking
1500-1600
improve core power uses
1600-1700
How to protect a 3D spine
—————————————————————————————
Day Two Agenda
1000-1100
3D Pilates for joints
1100-1200
8 Steps to Core connection
1200-1300
Upper limb and lower limb connection
1400-1500
Muscle meditation for healing
1500-1600
Explore the Tai chi balance power
1600-1700
Examination and Demonstration